Browse to Appearance / Hello Friday Settings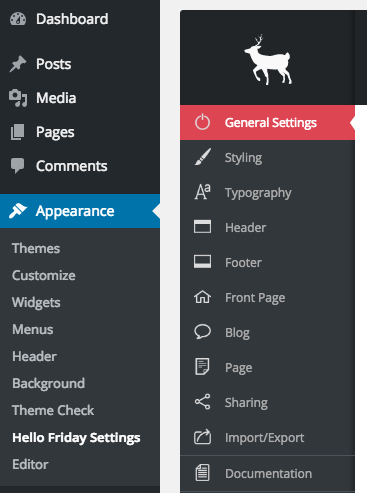 General Page Settings
Here you'll find a few basic things to start off with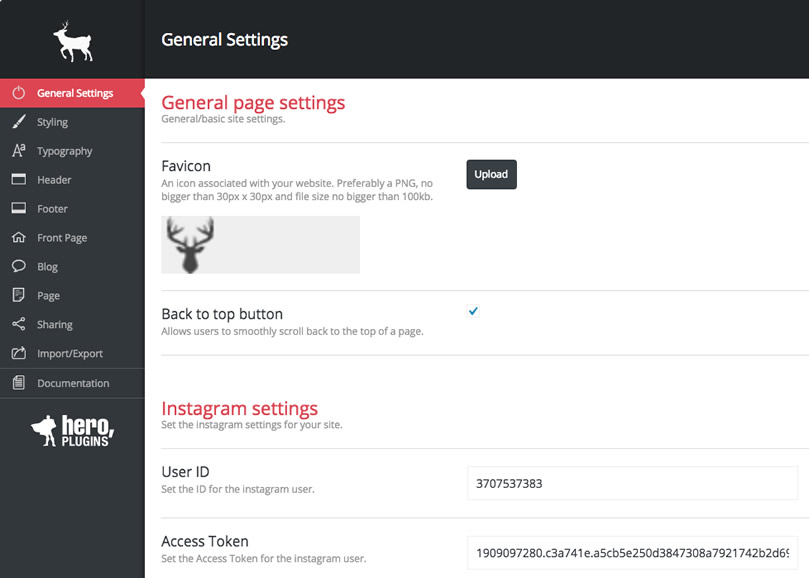 Add your Favicon. Upload a transparent PNG for the best result
Instagram Settings
If you want to add an Instagram Widget in your sidebar or activate the Instagram full width footer, then you can start off by adding your details here
User ID
Where do I find this? http://www.otzberg.net/iguserid/
Access Token
Where do I find this? https://elfsight.com/blog/2016/05/how-to-get-instagram-access-token/
404 Page Details
This is the content that will show up if a page can not be found
Styling
You can set up 4 accent colors for the use through your site. These are mostly used in the Typography section of the settings.
You can also set the colors and styles for Social Icons, Buttons, Tags and Block Quotes here
Typography
All fonts for the site can be set here. This includes, sizes, colors, weight etc. All Google Fonts included. The default font settings should be sufficient for a great looking site.
Header
Here you can upload your site Logo and Sticky Navigation logos. Make sure that they are transparent PNGs at about 150px in height for the best result.
Primary Navigation
Here you can set the font, font color and background color.
Dropdown Navigation
Here you can set the font, font color and background color.
Social Icons
Switch this on and your social icon will be included in your navigation bar.
Select Social Icons
Switch on the social icons that's needed and add a URL and set the hover color for each
Footer
We recommend you keep footer layout one that is selected by default.
Set the colors for the footer and add some Copyright Info. You can also enable the Instagram feed and social icons in this section.
Extra Signup Settings
Switch this on and a Newsletter Signup bar will be added to the footer area. This can be styled by background color or background image.
Front Page
Top Layout
Here you can choose between a straight forward layout or add a Full Width Slider or Contained Slider.
Launch Pads
If you want launchpads to be displayed under your main logo or main slider, then you can switch this on and give it a heading.
You can choose to display latest posts or categories and pages
Front Page Blog Layout
You can choose to display latest posts or show categories with latest posts and the related posts after each.
Front Page Sidebar
You can switch on a sidebar on your home page
Blog
Blog List
If you have a separate blog list page, then you can switch on or off your sidebar.
Blog Single Post Page
Switch on or off the sidebar
Show / Hide Tags
Show / Hide Author's Bio
Enable Social
Show / Hide Social Icons on posts
Setting up the social icons to show up can be done under the HelloFriday Sharing Tab
Page
Here you can switch on the sidebar for pages and activate social icons
Sharing
Select the social icons you want displayed on posts and pages.
Please note that you still need to switch then on under the blog or page tab above
Import/Export
This can be used to import style settings from one install to another. Say for instance you work on a dev server and there's some changes and want to now include them on your live site, then you can do the following.
Click on "Generate Export Options", copy everything from the box.
Go to your new/live site and paste this into the import box and click on "Import Options"